Candidates present diverging views of attorney general's office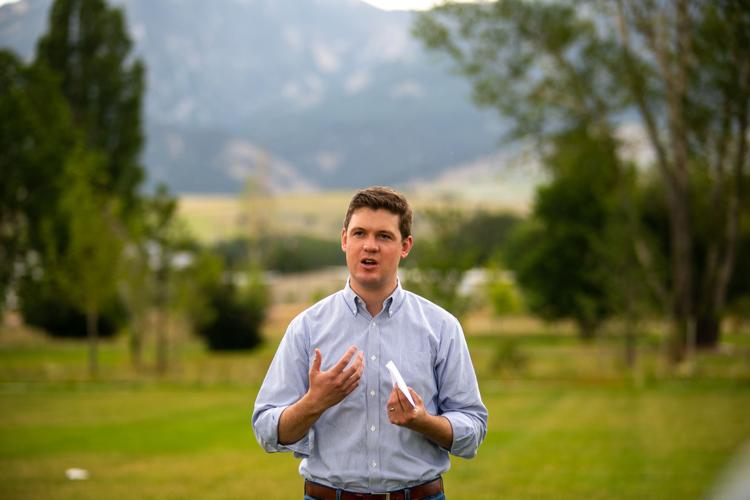 As an afternoon thunderstorm rolled into Bozeman, Raph Graybill spoke to a small group of supporters this week at Story Mill Community Park about how he would protect public lands if elected as Montana's attorney general.
Graybill, a Democrat, said his public lands plan is one way he will serve as "the people's lawyer," defending Montanans' rights and values.

His view of the position stands in sharp contrast to that of his opponent, Republican Austin Knudsen, who sees the attorney general as primarily the state's chief law enforcement officer.

Given these significant differences, Montana could be taken in divergent directions depending on which candidate wins in November.

And the race is in play. In June, the Cook Political Report shifted the race from "Lean Republican" to "Toss Up." By June, Graybill had raised about $372,000 while Knudsen had brought in $192,000 — more money than the race for attorney general has seen by this point in years.

Graybill's visit to Bozeman was part of a campaign tour about his public lands plan, which includes creating a public access advocate, an assistant attorney dedicated to working on land issues.

At the Bozeman event, Graybill highlighted his work as Gov. Steve Bullock's chief legal counsel to protect Habitat Montana, a statewide lands program, and his involvement in a federal lawsuit claiming William Pendley, who has drawn criticism from public lands groups, is illegally serving as the acting director of the Bureau of Land Management.

As a member of the land board, which manages the state's lands, Graybill said he would preserve public lands and access to them.

Knudsen said he too would protect public access but emphasized that the revenue from the lands goes to K-12 education, so he would also maximize the benefits of the land through efforts like leasing and natural resource development.

Graybill's campaign has also emphasized health care.

As attorney general, he'd worked to protect the Affordable Care Act, which he said has created jobs, made it easier to obtain mental health services and ensured that thousands of Montanans with preexisting conditions have health insurance. He also plans to work with other state's attorneys general on cases that aim to lower the costs of prescription drugs.

Knudsen, who served as speaker of the House during the 2015 and 2017 legislative sessions, was a vocal opponent of Montana's Medicaid expansion plan under the Affordable Care Act, which he said has been disastrous for the state.

He said the solution to health care must come from the legislative branch and is largely outside the attorney general's purview.

"I do not think the attorney general's job is to file activist lawsuits in the U.S. Supreme Court," he said. "The job is to enforce the law as passed by the Montana Legislature and to defend Montana citizens' freedoms and rights. That's what I'm going to do as attorney general."

Graybill disagreed, saying his work on public lands and health care is aimed at protecting the rights of Montanans.

"I'm running for this office to … provide an independent voice, a Montana voice to these issues and to get leadership back in the attorney general's office again," he said.

As attorney general, Knudsen would focus on law enforcement.

He would reduce the size of the Montana Department of Justice and instead direct funding to local law enforcement agencies and criminal prosecutors to tackle the state's drug and violent crime problems. He'd like to help smaller, rural counties obtain drug dogs so they can better find and seize the methamphetamine coming into Montana from Mexico.

"My attitude is until we can secure that southern border, the best we're going to be able to do in the state of Montana is up drug interdiction, which is trying to find it as it comes into the state," he said.

Graybill said Knudsen's focus on the criminal aspect of the job is too narrow.

"The AG doesn't do direct criminal prosecutions," Graybill said. "It's not part of the job. There is a specialized unit that sometimes helps out small counties, but all prosecutions in Montana happen at the county or city level."

Knudsen grew up outside Bainville and graduated from the University of Montana law school in 2008. He was elected to the state Legislature in 2010 and went on to serve four terms while also practicing law. He was then elected Roosevelt County Attorney in 2018.

Graybill has criticized Knudsen for being county attorney for only two years and for his limited experience in federal court.

Graybill is from Great Falls. He attended Columbia University and went on to receive a master's degree in political philosophy at Oxford University as a Rhodes Scholar. He graduated from Yale Law School in 2015 and worked at a commercial litigation firm in Seattle before returning to Montana in 2017 to serve as Bullock's chief legal counsel.

Knudsen and the Montana Republican Party have said Graybill doesn't qualify for the attorney general's office, citing the constitutional requirement that he practice law in Montana for five years. The Commissioner of Political Practices previously found that Graybill would meet the requirement by the November election.

However, this week, the Republican Party filed a petition in the Montana Supreme Court saying Graybill is ineligible to run for attorney general.

The Republican Party asked for a decision by Monday.