Graybill, Knudsen duel in AG debate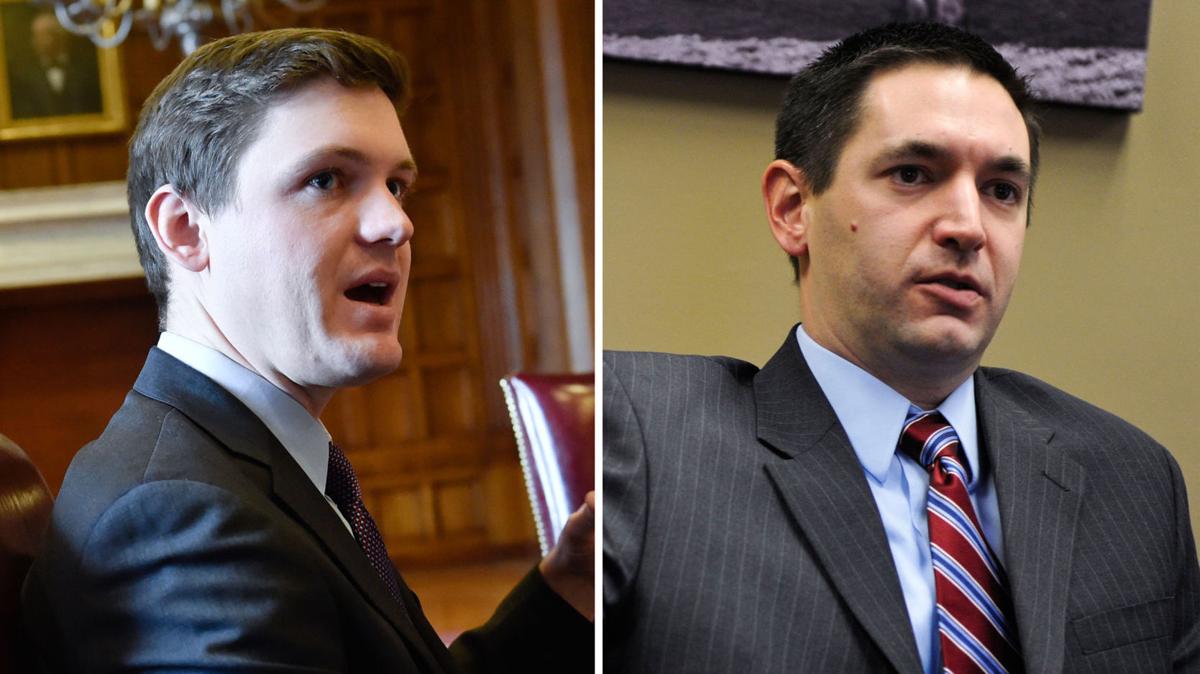 Candidates for Montana's next Attorney General dueled over qualifications for the office and whose agenda would be best carried out in a debate televised Sunday on MTN.
Republican Austin Knudsen and Democrat Raph Graybill, both seeking to replace the termed-out Republican Attorney General Tim Fox, traded barbs throughout the debate moderated by MTN chief political reporter Mike Dennison. Knudsen was relentless in highlighting Graybill's limited experience while Graybill painted Knudsen as "dangerous" and an "extremist."

Graybill has been Democratic Gov. Steve Bullock's chief legal counsel since 2017, and was admitted to practice law in Montana in 2015. His vision for the attorney general's office is one of a watchdog advocate against prescription drug companies and "dark money." Knudsen, elected as Roosevelt County Attorney in 2018, previously served two terms as Speaker of the House in the Montana Legislature. He sees the office's chief concern to be drugs and violent crime.

"I'm a prosecutor right now," Knudsen said. "Prosecuting criminals is what I do every day for a living."

Knudsen said a 36% hike in violent crime over the past decade has been fueled by Mexican drug cartels hauling meth, heroin and fentanyl into the state. He touted his work with local law enforcement and prosecuting criminal cases as his upper hand over Graybill. Knudsen said he wants to further support local police agencies by cutting "funding out of the bureaucracy in Helena and get it out to law enforcement on the front lines of this problem so they can actually make a difference."

Graybill, in turn, blasted Knudsen's plan to cut state law enforcement functions as "dangerous," and said he would empower the Montana Department of Justice to bolster public safety. The increases in spending under Fox went to the State Crime Lab, the Law Enforcement Academy, additional law enforcement near the Bakken Oil Field region, Montana Highway Patrol and sex crime prosecutors, Graybill said. Funding shouldn't be diverted from treatment and prevention efforts, he said.

"I have the receipts," Graybill said. "I think it would be a disaster for public safety to cut those services."

Asked if taking on prescription drug prices is the attorney general's business, Graybill argued that state attorneys general are the only ones making any headway in an uphill battle.

"We're all paying too much for prescription drug prices," Graybill said. "I think this is one of the most important things the AG can do."

Graybill also attacked Knudsen on his opposition to the Affordable Care Act, arguing that killing the system known also as Obamacare would likewise kill 10,000 jobs in Montana and close rural hospitals.

Knudsen said he doesn't know of a person in Montana who has said the quality of their health care has gone up or the cost of their premiums have gone down, but then shifted away from the health care question and again toward violent crime. He wouldn't get in the "Legislature's sandbox" to push legislation on healthcare as AG, he said. He charged Graybill with harboring "ultra-liberal, activist's ideas" about fighting prescription drug prices.

Knudsen's legislative record on Habitat Montana, a program under Montana Fish, Wildlife and Parks which acquires public land by buying private parcels, was the focus of one question during the debate. Asked what his position is on the program, Knudsen said his only problem with Habitat Montana was an instance in which it was buying ranches at inflated prices, in some case appearing to use the purchases as a kickback to Democrat donors.

Knudsen said he generally supports the program. But Graybill said such an argument was why "people say they are sick of politics," saying Knudsen voted to cut the program's funding. Graybill turned to his own experience working with a family in Wibaux who was "victimized by extremist politicians like Austin" to block public land access, and winning that case.

Looking at a Graybill proposal to make voter registration automatic when someone acquires or renews their driver's license through the Motor Vehicle Division, which is overseen by the attorney general, Dennison asked Graybill whether that was the AG's job.

"Well it's certainly the job of the AG to make voting easier," he said. "The secretary of state and the AG should work together to make voting easier."

Knudsen said Graybill was "running for the wrong office," that the matter should be handled by the Secretary of State's Office. But he did take a chance to say the Motor Vehicle Division has been a source of frustration for voters.

Knudsen also defended his vote against legislation to crack down on "dark money" spending in the state as a support of First Amendment rights.

"You've got serious, fundamental Constitutional problems with a bill that tells people how they can speak, when they can speak and on what topics they can speak," Knudsen said.

Graybill touted Montana's anti-"dark money" laws as cutting edge, adding these legal battles have been among his best work in the Governor's Office.

"I have fought for you time and time again to make sure our elections belong to us," Graybill said. "These groups come into Montana because they don't respect us. They think they can buy our elections."

Election day is Nov. 3.