Graybill: Knudsen, Big Tobacco ties create a conflict of interest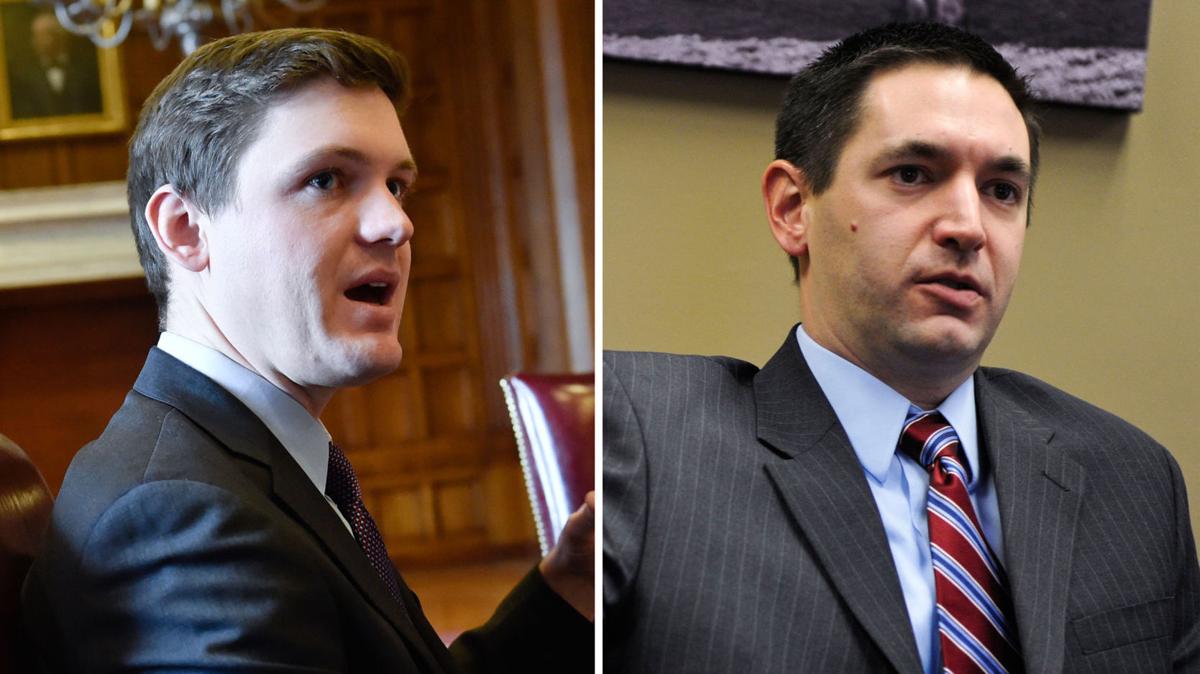 Democratic attorney general candidate Raph Graybill on Tuesday condemned campaign contributions made to his Republican opponent from a tobacco company's political action committee, calling the connection a conflict of interest if Austin Knudsen were to win the office and inherit a lawsuit against tobacco companies.
In front of the Montana Department of Justice building on Tuesday, Graybill held a press conference drawing the connection between Knudsen, the tobacco company RJ Reynolds' PAC, and two of Knudsen's campaign fundraisers, EJ Redding and Chuck Denowh, both lobbyists who have previously advocated for the tobacco industry in Montana.

Knudsen did not return two calls seeking comment on Tuesday.

The conflict of interest, Graybill said, lies in a lawsuit the Montana Department of Justice filed earlier this year against several tobacco companies, including RJ Reynolds, to recover $43 million "withheld" by the industry. The sum was part of a settlement agreement made in 1998 at the end of litigation by individual states against tobacco companies, and has since funded smoking prevention and other health programs. In April, the Montana Attorney General's Office said the tobacco companies had broken the settlement agreement and improperly withheld millions of dollars for more than a decade.

The Reynolds American Inc., PAC had spent roughly $737,540 from the start of the 2020 election cycle through Aug. 31, according to the Federal Election Commission. Seventy-seven percent of their spending in federal elections has gone to Republican candidates, according to the Center for Responsive Politics. Records with the Montana Commissioner of Political Practices show Reynolds American has donated to Knudsen's campaign, as well as Republican U.S. Rep. Greg Gianforte's bid for the governor's office. The PAC contributed $360 to Knudsen in the primary election and another $360 for the general election. Federal Election Commission reports also show Reynolds American donated $360 to the "Austin for Montana" committee on May 5 and June 26.

Since the suit was filed against Reynolds and other tobacco companies this year, the defendants have claimed the issue must go into arbitration. A District Court judge denied the arbitration assertion again, and the companies appealed that matter to the Montana Supreme Court in June, even though the arbitration matter was settled in 2012.

The tobacco industry has been accused of stalling such litigation in Montana in the past in hopes of a more favorable outcome. In a 2011 case in which the industry argued its case brought by the State of Montana should wait for a nationwide arbitration to play out, Justice Jim Nelson wrote in an order:

"The defendant tobacco manufacturers' historical — and ongoing — approach to this litigation has been to prevaricate, dissemble and delay, and that is exactly what they have done here."

Graybill also pointed to Denowh and Redding as two major fundraisers for Knudsen's campaign as further evidence that Big Tobacco would have Knudsen's ear if he is elected to office.

Denowh was a spokesman in 2018 for two companies that represent tobacco companies who at the time fought against Initiative 185, which would have raised taxes on tobacco to pay for Medicaid expansion. The proposal failed to get enough votes to become law after major tobacco corporations spent more than $17 million to defeat it.

"I don't work for Knudsen," Denowh said Tuesday.

Asked if he has ever raised funds for Knudsen's campaign, Denowh said: "I do some Republican fundraising. I work for a couple federal candidates at the moment, and that's it."

A voice message left for Redding seeking comment was not returned on Tuesday.

At the Tuesday event in Helena, Graybill called on Knudsen to return the donations and vow not to hire Redding or Denowh into the Attorney General's Office if elected.